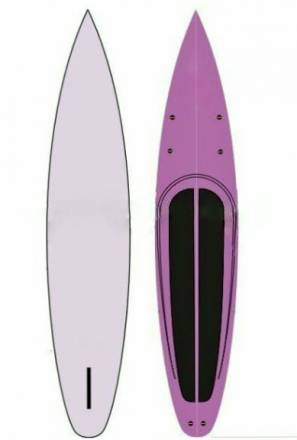 Serena Open Water Racer Paddleboards let you break free from the norm and train and travel distances without knowing.  Displacement hulls and slim profiles allow for superior glide and travel.  Take paddling to the next level and leave the shore behind.  The Serena Open Water Racer is a perfect sup for touring or meeting the challenge in a race.
Not just for racing, the Serena Open Water Racer SUP sleek design and longer length provides stability at higher speeds and performance and control in choppy water conditions.  With a narrow body built for speed, this is a perfect choice for a long distance excursion or enjoying an offshore paddle session.   These pro style boards offer the added benefit of a higher caliber, cutting edge design and characteristic to be enjoyed by the avid paddling enthusiast as well as a novice beginner to race boards
From our testing and trials, Serena Paddle Sports has put together two size options that will benefit and perform to any user's preference.  A flat water displacement hull offers low water drag for a smoother ride and added speed.  The high volume rails provide ample stability for paddling and the hull's length offers a gentle glide at a fast pace.  You don't need to be an experienced paddler, just ready for a journey over water and waves. 
Sizes
11'0 x 28 x 5 ½
12'6 x 28 x 5½
14'0 x 27 x 5
 All of Serena Paddle Sports SUP Packages come with;
Traction Deck Pad
Vent Plug
3 Fin System
Coiled Leg Leash
100% Carbon Fiber Paddle
Available in Open Water Red, White, Black, or Puple or for an additional charge, customized graphics