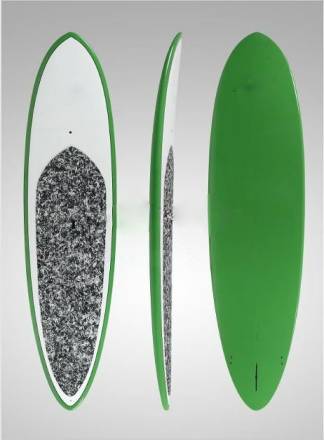 A true gold standard SUP.  With the classic look and feel of original Hawaiian longboards, the classic is durable and tough, yet lightweight and easy to carry.  Available in a wide range of sizes, the Serena Classic is a true all-around board for beginners and advanced paddlers.  Designed with a sleek tapered tail for control and smooth turns in flat water to ocean waves, this versatile cruiser provides stability and precision performance.
The Serena Classic is made of a hand finished EPS foam core and wooden stringer for added strength, with 3 layers of 6 oz. fiberglass from nose to tail and an extra 6 oz. layer of fiberglass added to the mid-section of the board.  The bottom of the board is finished with 2 layers of 6 oz. fiberglass.
Sizes:
9'6 x 31" x 4¼
10'0 x 31½ x 4½
10'6 x 32 x 4¾
11 x 32¾ x 4 7/8
12 x 34 x 4 7/8
 All of Serena Paddle Sports SUP Packages come with;
Traction Deck Pad
Vent Plug
3 Fin System
Coiled Leg Leash
100% Carbon Fiber Paddle
We offer five color options (red, blue, white, green, and yellow)
as well as logo placement laminated under the fiberglass.  
For Custom Designs
Serena Paddle Sports offers the customized service of applying your name and logo to the front and back sections of the board.