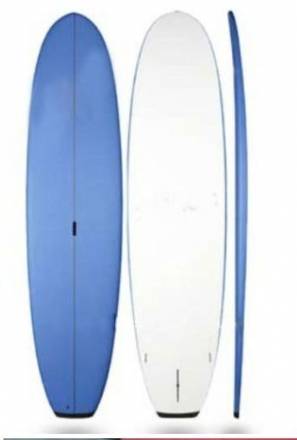 The perfect choice for the novice user to get up and out on the water.  This entry level board provides a non-intimidating, soft, squishy feel underfoot.  An easy to carry, manageable board, the Cruiser is a great option for the first time user to stand up quickly and enjoy.  For fun and exercise, be it a cross-fit paddle or fun paddling with the whole family, this great all around board will get out exploring the waterways, cruising and gliding with ease.
Our Cruiser SUP has an inner core of high density EPS foam, double wooden stringers, and 2 layers of 6 oz. fiberglass.  The board is then wrapped in closed cell EVA foam for the decks and rails and a slick skin surface for the bottom of the board.  The nose, tail and rails are reinforced with solid EVA bumpers and the top includes a deck traction pad insert.
Sizes:
9'6 x 31" x 4¼
10'0 x 31½ x 4½
10'6 x 32 x 4¾
11 x 32¾ x 4 7/8
12 x 34 x 4 7/8
 All of Serena Paddle Sports SUP Packages come with;
Traction Deck Pad
Vent Plug
3 Fin System
Coiled Leg Leash
100% Carbon Fiber Paddle
We offer five color options (red, blue, white, green, and yellow)
as well as Logo placement laminated under the fiberglass.  
For Custom Designs
Serena Paddle Sports offers the customized service of applying your name and logo to the front and back sections of the board.